Installation CentovaCast With SSL
Installation CentovaCast With SSL: Our experienced technicians will provide full installation and configuration services for Centova Cast v3.2.15, to get you quickly up and running. We will install a free SSL certificate for secure streaming (please ensure that ports 80 and 443 are available), as well as configuring the SSL web proxy system. Furthermore, we can also setup Shoutcast V1, Shoutcast V2, iCecast V2, Auto Dj and FTP. After everything has been installed and configured correctly, our team of experts will proceed to testing the Auto Dj, Shoutcast and icecast service to make sure they work properly before handing the service over to your control. With our help, you can be sure that your Centova Cast setup will be easy, seamless and reliable.
Let us take the hassle out of installation and configuration for you – get in touch today! Our team is ready to assist.
For more information on our Centova Cast v3.2.15 Installation Service please contact us directly or visit our website for further details. We look forward to hearing from you and helping you get your Centova Cast setup up and running quickly and efficiently. Thank you for choosing us!
Requirements for Installation CentovaCast With SSL on your server.
For a successful installation of Centova Cast V3 on your server, you must ensure that you have the following items in place: A valid VPS or Dedicated Server with Debian 10 Buster 64bit operating system installed; access to the Server IP, Root Password and SSH port number; a current version of Centova Cast License (version 3.2.15 or later); as well as either a Domain Name or Sub-Domain. Additionally, for optimal performance it is recommended that the VPS has 4GB Memory and 4 CPUs however a minimum of 2GB memory and 2CPUs is sufficient.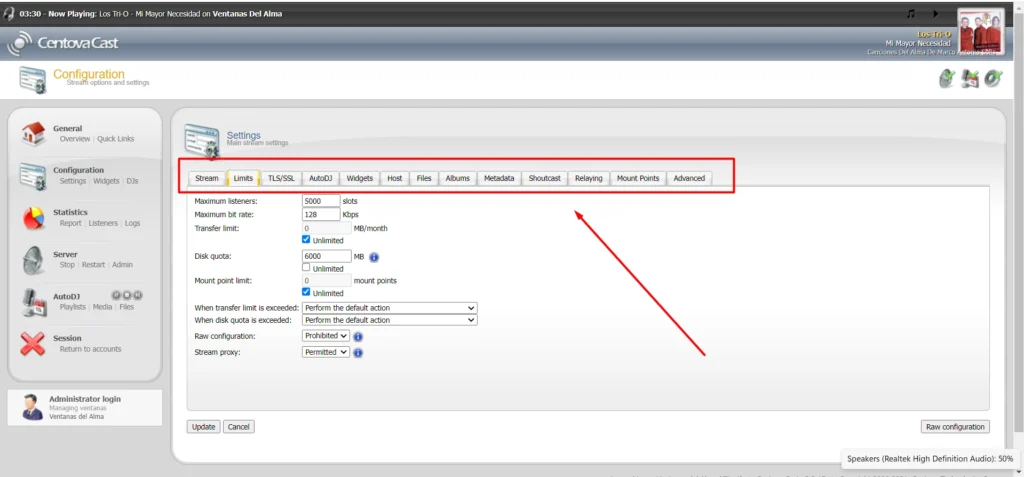 It is important to note that we do not perform any local installations and the installation of Centova Cast requires a clean installation of Debian 10 Buster, i.e. no other control panel or web server must be installed before hand. Therefore, it is of utmost importance that you ensure your Centova Cast License is up-to-date in order to avoid any issues during the installation process.
We appreciate your cooperation in helping us get the install of Centova Cast V3 on your server completed successfully and as quickly as possible.
We can Install Centova Cast on your own server
For those who are looking to stream with SSL, we recommend using the Centova Cast license first before ordering our service. This will guarantee quick delivery of your streaming needs. However, it should be noted that Centova Cast only works with proxy for SSL and if you want 100% ssl Streaming, then SonicPanel is the way to go. With SonicPanel's secure solution, streaming securely has never been easier! So take advantage of this great offer and get your streams going today!
We hope this information has been useful in helping you make the best decision for your streaming needs. If you have any questions, please don't hesitate to contact us and we'll be glad to help. Thank you for choosing our service!
Service Incluided
SSL, ShoutCast DNAS 2.6 Monetize 
Mp3 & AccPlus
SSL certificate
ShoutCast DNAS v2.6
Mp3 & AccPlus 
HTTPS & HTTP
Liquid Soap & Trans2
VPS or Dedicated Server
Debian 10 Buster 64bit OS
Server IP
Root Password
SSH Port #
Centova Cast License
Domain Name or Sub-Domain
Minimum resources for VPS: 2GB Memory and 2CPUs
Recommended VPS: 4GB Memory 4 CPUs
Adding Additional Software
SHOUTcast DNAS v2.x
SHOUTcast DNAS v1.9.8
IceCast v2.x
Liquidsoap  [SHOUTcast / IceCast]
ices-cc [SHOUTcast / IceCast]
sc_trans 2.0 [SHOUTcast only]
Configuring SSL
Installation of Let's Encrypt.